| | |
| --- | --- |
| | |

Saving Children out of the Holocaust:
Sir Nicholas Winton and Alan Overton
July 4, 2015 - Audio, 12.59 MIN
(Links at bottom of page to download free viewers.)
Several newspapers this week reported the death of Sir Nicholas Winton who saved hundreds of Jewish refugee children from Czechoslovakia in 1938. The Jerusalem Post, for example, had this: "Seeing the desperate plight of the Jews in the German-controlled Sudetenland region of Czechoslovakia, Winton immediately set up a makeshift office in his hotel room in Prague and began receiving parents who were desperate to get their children to the safety of Britain - the only country that was willing to take in Jewish children from Nazi-ruled countries, but with several provisos. They had to come without their parents, the children - or kinder - could not be aged above 17, and a £50 guarantee, per child, was required to cover the costs of their eventual return to their country of origin when that became possible. Naturally, no one considered the possibility that the children's parents would not still be alive at that point."
But others were involved in such rescue work, including a number of Christadelphians, one of them being Alan Overton of Rugby U.K. as reported in The Rugby Observer (February 20, 2003). A personal account of Alan Overton's work was also written by his son Bruce Overton before he died. The following is his story, quoted in full:

My father, R Alan Overton, became involved with the Jewish Refugee movement in 1938. As a Christadelphian, he already had a very great interest in God's people, the Jews. Born at the turn of the century, he had lived through the exciting days when, in fulfillment of Bible prophecy, the Jewish people, in the spirit of Zionism, began to return to Palestine, their ancient homeland, now under the British Mandate.

He took particular interest in the developments taking place in Palestine from 1918 onwards. One might say it became his 'specialist subject,' and he was called upon to speak throughout the United Kingdom at public meetings arranged by the Christadelphians. He gave illustrated lectures and showed films of modern developments in Eretz Israel, convincing his audiences that the ancient prophecies were being fulfilled.

In order to keep abreast of the British Government's policies in regard to Palestine, he attended every debate in the House of Commons, as an observer, until Britain ended its mandate and the State of Israel was declared in 1948.

The Hope of Israel was his life and during the 1930's he watched the development of anti-Semitism in Germany with the rise of Hitler and the Nazi Party. He became very anxious over the fate of the Jews which Hitler outlined in his book 'Mein Kampf.'

By 1937, the Jews in Germany were feeling the effects of the Nazi campaign against them and some, who could afford to flee Germany into Austria and Czechoslovakia, did so. Fears were intensified when Hitler's Storm Troopers marched into these countries where the Jews were the first target. There seemed no alternative for the Jews but to send their children further afield, perhaps to relatives living in the United Kingdom or United States of America, but suddenly a wave of fear compelled the Jews to send their children away to whoever would have them and wherever a safe haven could be found.

In 1938 a committee was set up in London, at Bloomsbury House, called the 'Movement for the Care of Children from Germany.' Lord Samuel, a prominent English Jew and Parliamentarian, was Chairman of the 'Council for German Jewry' which had been set up some three years before in view of the intensified persecution in Germany but now he gave his help to the new committee.

Arrangements were made for the first large contingent of Jewish children to arrive by train from Germany arriving at Liverpool Street Station, London. In the daily newspapers the next day, appeared photographs of these children, boys and girls of all ages, a label attached to them bearing their name and number, their few possessions in a small case or 'backpack.'

I remember, although I was only ten years old at the time, a photograph of a little girl, her hair in plaits, sitting forlornly on the platform of the station, her backpack at her side, her label tied round her neck. It was at this point I remember my father being so, moved, for he had three young daughters of his own, he determined he must do something for these pathetic refugee children. Were they not God's people and was not this a fulfilling of Moses' prophecy in Deuteronomy 28 verses 32 and 33?

"Thy sons and thy daughters shall be given unto another people, and thine eyes shall look, and fail with longing for them all the day long: and there shall be no might in thine hand. The fruit of thy land, and all thy labors, shall a nation which thou knowest not eat up; and thou shalt be only oppressed and crushed alway."

He realized, that homes had to be found and found quickly. If he could appeal to Christadelphians, hundreds of homes, he felt sure, would be made available throughout the United Kingdom. He placed an advertisement in the Christadelphian Magazine appealing for helpers. Everywhere he spoke and lectured, he continued his appeal for homes to be found for these lost children.

Whilst working with the Committee in London, he set up a regional committee 'The Rugby (Christadelphian) Refugee Committee' and with willing helpers tried to deal with the tide of letters arriving from the continent, letters begging for homes to be found for children and adults. Sometimes letters would arrive simply addressed OVERTON, RUGBY, ENGLAND. The townspeople became aware of the effort being made and the Mayor and Council members were only too pleased to facilitate his efforts and many children were placed in homes around Rugby.

As the fear of hostilities breaking out between Britain and Germany became more apparent, the Government felt caution was needed to restrain the number of immigrants from the continent. Fear of German agents slipping in was a real possibility. However, my father lobbied and pleaded with Members of Parliament not to close the doors of Britain to these desperate Jews who sought refuge and asylum. He had to work very closely and in conjunction with the London Refugee Committee and the Home Office. Little did my father realize that the work begun in 1938 would continue through the war years until 1946 and even later.

Almost every week he would meet the boat train arriving in London to collect the children. In this he was assisted by other Christadelphians who gave up their time and willingly helped to transport children into the south and east England and London areas. Heartrending scenes which even brought hardened London 'bobbies' to tears met their eyes. Very young children, as young as two years old, crying for their mothers, were herded together until separated, some to England, some to Wales and Scotland.

Our home, just outside Rugby, became virtually a transit house. Often late at night, my father would arrive home, his car packed full of children, some feeling very unwell after a long train journey and Channel Sea crossing, beside the trauma of leaving their parents. How my mother coped, with her own four children plus a house full to overflowing with children in need, with language difficulties, from various parts of Europe, I shall never know except it be for the providential hand of God at this crisis in all our lives on behalf of His children.

By prior arrangement, Christadelphians, if they had transport, would come to our home to collect their wards. Others had to be transported either by my father, or by train or bus to their new homes in other parts of the United Kingdom.

My father realized that there was a need for a hostel to be set up in Rugby which could become a permanent home for boys mainly. Girls, he had no problem finding homes for. The hostel could also be used for children passing through or a meeting point for the refugees themselves.

The Birmingham and Coventry Christadelphians later set up a hostel in Birmingham which they named 'Elpis Lodge.' Hope of survival came in such ways for many more Jewish children.

On a much larger scale a holiday camp on the east coast near to the ports of entry was taken over. Many children will remember the reception camp at Dovercourt and many a visit was made to collect the boys and girls and take them to a new life without fear.

In the Rugby Hostel, there were boys from Germany and Austria, some from Czechosolvakia and Poland. Their schooling had to be catered for and later their employment and training.

When war came, a stricter regime had to be enforced. The possibility of internment was very real. There was regular reporting to the police and a night curfew. Fear of these children falling into the hands of the 'Fifth Column' was an added danger. Much care and vigilance was needed.

I might add here that my father felt it an important factor in the lives of these young Jewish boys and girls that they should know at least something of their own history recorded by their own writers, Moses and the prophets. I remember the many happy and lively Sunday afternoons when he not only became their guardian and friend but their teacher, making their own scriptures come to life.

In 1946, when the war ended, many were now in their late teens and they were anxious to find their families again. Sadly, in most cases on returning to their former homes and towns, none had survived the appalling Holocaust. Many had found their end in the Nazi camps and gas chambers.

Fifty years have now passed since those days. Most of those who worked so hard during those sad and grueling times have passed away. But the children whose lives were literally saved from certain death are now in their sixties and seventies. Some have thought back to the days when arriving in England, in a free but strange land, they were met by a young man who comforted and cheered them and became a 'father' to them. A father, I for one, was proud to share.

Bruce M. Overton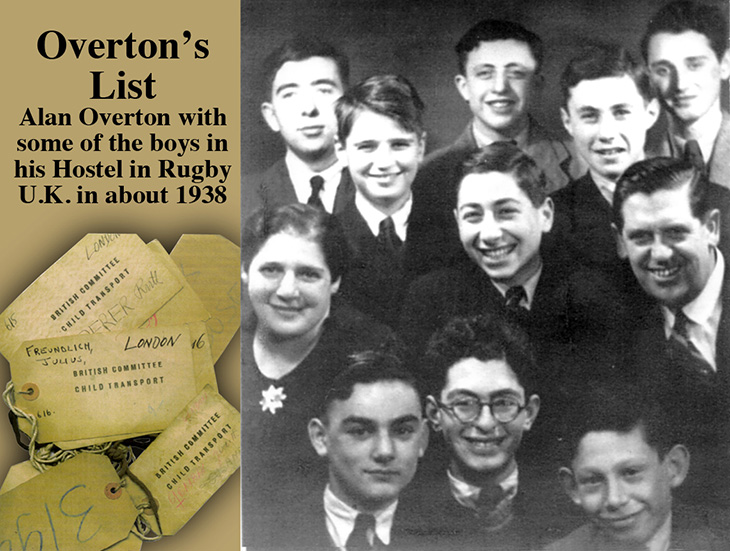 | | | |
| --- | --- | --- |
| | | |
| | | |
| | | |
Bible in the News provides a weekly analysis of world politics and events
in the light of Bible prophecy — the Bible in the News!