This week the heir to the British throne His Royal Highness Prince Charles, has been making a four day tour to The gulf to visit Saudi Arabia and Qatar exposing the deepening ties between great Britain and the Gulf states as we would expect from Bible Prophecy.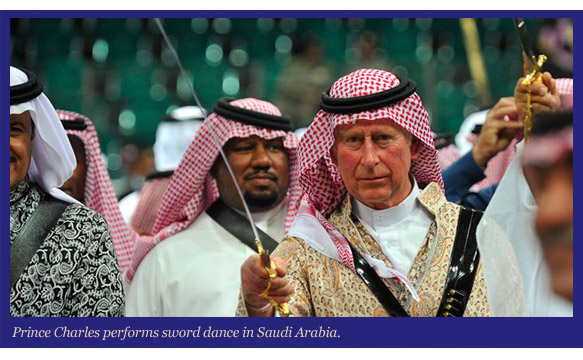 Saudi Arabia purchase 72 Jets from BAE


With Europe in an economic mess, in recent times Britain has been looking back to more traditional areas of the World to boast its trade and relationships. One of the targets for drumming up new trade has undoubtably been the nations of the Gulf. It has been very noticeable over the past few years that there has been a specific strategy by the British government to make a special effort in order to seek to increase its trade and improve its relationships with the Gulf region.

One of British Prime Minister, David Cameron's first overseas visits when he came to power was to Saudi Arabia - Britain's leading arms export market where it was thought he was attempting to entice Saudi officials into purchasing British Typhoon jets. The negotiations on this deal have continued ever since. This week on Wednesday 19th of February the British Guardian announced that finally a deal had been reached between the British defence firm BAE Systems and Saudi Arabia. Although no price has been officially announced, back in 2007 Saudi Arabia military made a preliminary commitment to paying £4.4bn for 72 of these jets. Since then they have requested additional technologies to be built into the aircraft and so the price is probably quite higher now, probably around the 6bn mark. Officially the visit of Prince Charles to the region has not had anything to do with the deal, however his personal interest int he region must of have influenced the announcement being made during his visit to the Kingdom of Saudi Arabia.



Headlines confirm British focus on the Gulf


This is just the latest sign of the huge trade push for Britain in the Gulf. Consider these headlines from the press all taken from the last four years:

November 5th, 2012


David Cameron arrives in Gulf on arms trade trip


http://www.theguardian.com/politics/2012/nov/05/david-cameron-gulf-arms-trip

December 21st 2012


David Cameron welcomes fighter jet deal with Oman as boost for UK jobs


http://www.telegraph.co.uk/news/newsvideo/9760469/David-Cameron-welcomes-fighter-jet-deal-with-Oman-as-boost-for-UK-jobs.html

Feb 16th 2013


UK royals set to boost ties with Qatar, Oman


http://www.arabianbusiness.com/uk-royals-set-boost-ties-with-qatar-oman-489692.html

May 1st 2013


UK pushes for Kuwait trade and investment ties


http://www.ft.com/cms/s/0/9a408f1e-b240-11e2-a388-00144feabdc0.html

Dec 12, 2013


UK looks to boost security ties and contracts in Gulf


http://monitorglobaloutlook.com/news-story/uk-looks-to-boost-security-ties-and-contracts-in-gulf/

Jan 9th 2014


Britain keen to deepen defence ties with Qatar


http://www.gulf-times.com/qatar/178/details/377329/britain-keen-to-deepen-defence-ties-with-qatar

Jan 15th 2014


Bahrain-UK trade ties set to grow


http://www.gulf-daily-news.com/NewsDetails.aspx?storyid=368736

February 19, 2014


UK-UAE ties on the cusp of something bigger


http://m.gulfnews.com/business/uk-uae-ties-on-the-cusp-of-something-bigger-1.1292461



The visit of Prince Charles


This weeks visit to the Gulf by Prince Charles then is the latest of the signs that Britain is very much getting in with its Gulf allies. The British media were also in on the act showing the Prince looking rather awkward as he took part in a traditional Saudi sword dance dressed in full Arab garb!

British Ambassador to Saudi Arabia John Jenkins said: "Our two kingdoms share a long friendship, going back to the foundation of the modern Saudi state. Continuity of personal relationships, essential if we are to understand each other better, have been central to this."

From Saudi Arabia the Prince went on to visit Qatar. Prior to this visit the British ambassador to Qatar, Nick Hopton said: "I am delighted that HRH The Prince of Wales is to visit Qatar again. This is an opportunity to showcase the strong ties between the UK and Qatar, which we value greatly. The personal relationship between His Royal Highness and His Highness The Emir is both a symbol of this friendship between nations and important to the work we do together as the British and Qatari peoples to tackle the challenges facing us in the region and globally."

One report stated:
"Prince Charles will return to the region only a year after his recent visit, which demonstrates the importance the British government places on its association with key partners in the area. He has previously made four official visits to Qatar in 1986, 1997, 2007 and 2013. These connections are underpinned by the long-standing and respectful relationships which exist between Prince Charles and the royal families in each country... The Prince of Wales has previously made nine official visits to Saudi Arabia in 1986, 1990, 1993, 1997, 1999, 2001, 2004, 2006 and 2013." http://www.gulf-times.com/mobile//qatar/178/details/380839/prince-charles-to-visit-qatar-next-week

The Prince is not the only important UK Official in the region this week. The Lord Mayor of the City of London, Fiona Woolf, was in the United Arab Emirates to seek financial investment for London based infrastructure projects. She was reported to have said "We have an enormous need for investment in infrastructure and a very big national infrastructure plan… So there's a lot of talk about using Islamic financing for that infrastructure."

The Lord Mayor visited Bahrain on Feb 18th. She Tweeted "Pleased to meet with the Crown Prince of Bahrain to discuss close ties between our countries". She then moved on to visit Dubai and Abu Dhabi.



A Sign of the Latter Days


These close ties are exactly what Bible students will expect to be developing in the time period of "The latter days" for when we turn to the prophecies which speak about this time period we find some very interesting details about the region of the Gulf. In Ezekiel 38 the trading powers of Britain are said to be allied and trading with the Gulf states. They are mentioned in verse 13 by their ancient names of Tarshish for Britain and Sheba and Dedan for the area of the gulf.

We can see that these were indeed their ancient names by making a careful Biblical study and by piecing the clues to their identity together.



Sheba and Dedan


With Sheba and Dedan this is not too difficult to do. For example we find Dedan clearly linked with the area of Arabia in Isaiah 21:13 and Jer 25:23-24.

Many archeological finds point to a city called Al-Ulah in Saudi Arabia as being an actual city known in ancient items as the city of Dedan where these peoples eventually settled down.

The nation of Shebah has long been identified with the ancient kingdom of the "Sabeans". In an inscription in Turkey we find evidence of where this kingdom was. The following was written to commemorate the victories of Augustus around AD14: "…in Arabia the army penetrated as far as the territory of the Sabaeans (Shebeans) and the town of Ma'rib"

The city of Marib is in modern Yemen showing us the territory of these peoples is indeed in the Gulf area.



Tarshish


It is slightly harder to piece the clues together for Tarshish and we do not have space to give a full study of this topic here. However it does become clear when all the scriptural Tarshish clues are placed together this power is undoubtably Britain - for those hoping to visit or to watch online the Rugby Prophecy day on Saturday Feb 22nd, in the second session God Willing compelling evidence for this conclusion will be being presented - see https://www.facebook.com/pages/The-Rugby-Christadelphian-Bible-Prophecy-Day-Information-Center/326576384106274?ref=stream.

However, we will mention one piece of evidence - consider this inscription by Assyrian king Esarhaddon, written around the time of Ezekiel:

"All the kings from the lands surrounded by sea - from the country Iadanana (Cyprus) and Iaman (Ionian islands), as far as Tarshish, bowed to my feet."

This clearly shows us that Tarshish was an island. Not only that it shows that Tarshish was the island in the far west.

When added to the other Biblical Tarshish clues such as the metals which came from Tarshish of tin, lead, iron, and silver mentioned in Ezekiel 27, the only place which reasonably fits is the island of Great Britain.



Todays News found in our Bibles!


Therefore in the latter days we should expect to see the merchants of Britain linking up with the Gulf states. The visit of Prince Charles to Saudi Arabia and Qatar and the deepening trade ties between Britain and the Gulf is therefore another example of how God's plan is being executed to bring about the situation He has decreed the world to be in before Jesus Christ returns to the earth to establish His Kingdom.

Unknown to the Natian of Britain who believe they are acting by their own intuitions they are being compelled to take up a position in the Gulf which will see them in opposition to an invasion of a confederacy of nations mentioned in v1-7 of Ezekiel 38. This invading group of nations is headed up by one called "Gog" in v2. When this invasion takes place we read of the reaction of Shebah Dedan (the Gulf States) and the merchants of Tarshish (the traders of Britain) in v13:



"Sheba, and Dedan, and the merchants of Tarshish, with all the young lions thereof, shall say unto thee, Art thou come to take a spoil? hast thou gathered thy company to take a prey? to carry away silver and gold, to take away cattle and goods, to take a great spoil?"



It is extremely significant that British ties are being strengthened in the region of the Gulf. So as we can see these sure signs of the times coming to fruition around us let us consider our ways before the God of Israel. Soon God will visibly intervene in the state of the world when through His son the Lord Jesus Christ He will restore the Kingdom again to Israel. Therefore let us pray to God, in all sincerity as Christ taught his followers to pray:



"Thy kingdom come. Thy will be done in earth, as it is in heaven".

Matthew 6:10

This has been Matt Davies joining you. Keep watching as the time of Christ's return is near. However if his return is delayed another week please join us then for another "Bible in the News" God willing.