| | |
| --- | --- |
| | |

Who Will Lead Israel?
..."He whose right it is!" - Ezekiel 21:27
May 5, 2012 - Audio, 11.50 MIN
(Links at bottom of page to download free viewers.)
It is widely expected that early elections are to be held in Israel, and that Benjamin Netanyahu will win in order to renew his mandate to govern the country.
Hello again, this is Paul Billington bringing you another edition of the Bible in the News.

According to news reports, an official announcement will be made this Sunday (May 6th) bringing an Israeli election forward to September 2012. According to Reuters news agency:

"A poll conducted on Sunday night and published in the popular Yedioth Ahronoth daily, showed Netanyahu's Likud party winning 30 of 120 parliamentary seats if a ballot were held now, up from the 27 it currently holds.
Such a result would make him the leader of the largest faction and the likely candidate to form the next government. The poll indicates... Netanyahu has no cause for concern, and he apparently knows it. He is not just going to elections, he's sprinting to them,' Yedioth Ahronoth political correspondent Sima Kadmon wrote.

"No one party has ever won an outright parliamentary majority in an Israeli general election, and the poll indicated that would not change in the next ballot. According to the survey, right-wing parties would control 61 parliamentary seats compared with 66 at present, giving Netanyahu a governing majority he would likely attempt to widen with centrist factions. Foreign Minister Avigdor Lieberman's ultra-nationalist party Yisrael Beitenu, Netanyahu's biggest coalition partner, would capture 13 seats, down from its current 15, the poll showed. The poll surveyed 500 people and has a margin of error of 4.5 percent. In an interview with Yedioth Ahronoth's website, Ynet, Lieberman described an early election as a done deal. 'It's now just a matter of (setting) dates,' he said.

"Netanyahu has also been under pressure from pro-settler coalition partners and some outspoken Likud party members who have questioned his commitment to Jewish settlements in the occupied West Bank where Palestinians seek a state. Netanyahu's government has pledged to evict or raze numerous settlement outposts put up without official sanction, drawing warnings from some political allies that his coalition could collapse as a result."

So that is Reuters report. But what does the Bible tell us to look for? We are given to understand that "in the latter years" (Ezekiel 38:8); "in the latter days" (verse 16) there is to be a people gathered out of the nations upon the mountains of Israel. They will be "in the midst of the land" (verse 12). They will dwell in the "desolate places that are now inhabited." It will be a "land of unwalled villages," or in "the open country" (Revised Version margin). There are to be "open regions with country villages" says the Gesenius lexicon. The Jewish Tannach calls this "a land of open towns" (Stone edtn.).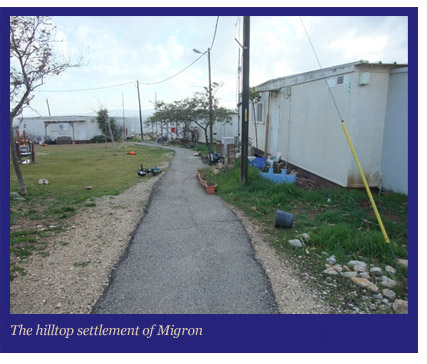 So apart from other considerations involved in Israeli politics, it seems that we ought to be looking for a government that would be willing to promote this situation. Translated into practical politics this means that we should expect to see the growth and expansion of settlements upon the mountains of Israel - which are located in the so-called West Bank. This is what a world that is hostile to Israel and Zionism calls the "occupied West Bank" (compare Reuters term in the report cited above).

We have taken the trouble to visit some of these settlements and have interviewed some of the Jewish residents who live there. For example, we recently visited the hill-top settlement of Migron which has been listed as one of those which are to be destroyed. But the present Netanyahu Government has obtained a stay of execution. We talked with a resident of Migron who is active in seeking to negotiate a means whereby Migron can be legitimized, and perhaps the coming election will decide whether Migron will remain to become one of those "unwalled villages" of Ezekiel's prophecy.

It is going to be an interesting election!

You can see the appeal to save Migron for yourself by going to the website http://www.yeshuv.org/mission/save-migron

Whoever wins the election in Israel, we know that their hold on power will only be temporary. Governments come and go, and the Lord will set over the nation whomsoever he will - and according to the Lord's own time - frame he will bring to power those men who will best serve His purpose in bringing about the great crisis which will reveal His son the Lord Jesus Christ and seed of David, the saviour of Israel (Acts 13:23).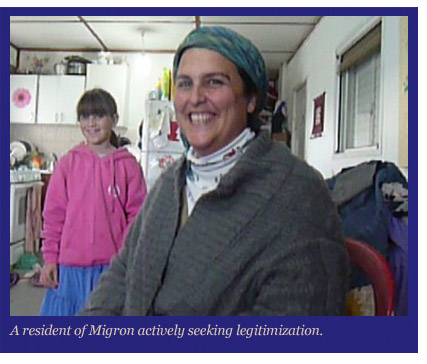 Many centuries ago the rulers of Israel were removed because of their disobedience and wickedness. Thus, it was to the last king of Judah that the prophet Ezekiel declared the word of God saying:

"And thou, profane wicked prince of Israel, whose day is come, when iniquity shall have an end, Thus saith the Lord GOD; Remove the diadem, and take off the crown: this shall not be the same: exalt him that is low, and abase him that is high. I will overturn, overturn, overturn, it: and it shall be no more, until he come whose right it is; and I will give it him" (Ezekiel 21:25-27).

A Prime Minister elected through the democratic process is not a king and must answer to others - and especially so in a coalition government such as exists in Israel today. What we see now is a temporary arrangement that will last while the nation is being built up. But the day will come when the king of Israel will come with great power, and he will establish the kingdom again in Israel. We read in Isaiah 32:1,

"Behold, a king shall reign in righteousness, and princes shall rule in judgment."

It is for this time of Justice, righteousness and peace that we now wait. Our prayer is that of Matthew 6:10 and Luke 11:2,

"Thy kingdom come, Thy will be done, as in heaven, so in earth."

Join us again next week God willing - www.bibleinthenews.com


| | | |
| --- | --- | --- |
| | | |
| | | |
| | | |
Bible in the News provides a weekly analysis of world politics and events
in the light of Bible prophecy — the Bible in the News!