| | |
| --- | --- |
| | |

False Christs, and False Prophets:
The wrong road to salvation...
February 10, 2012 - Audio, 7.50 MIN
(Links at bottom of page to download free viewers.)
Welcome to another edition of the Bible in the News, this is Paul Billington speaking with you from Ben Yehuda Street, Jerusalem, and it is the preparation for the Sabbath today. People are coming around getting their last minute shopping in before everything shuts down for the Sabbath day.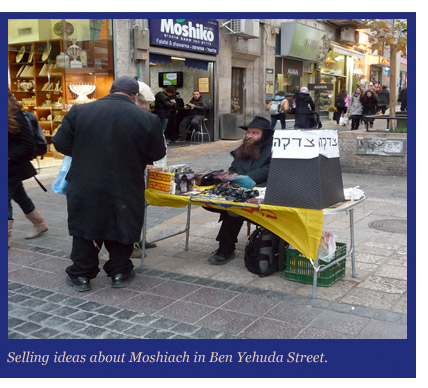 But amongst the people there are those false prophets. Yes, they are still there today. False prophets trying to interest people in their idea of the Moshiach - of the Messiah.

One group has set up its stall here on Ben Yehuda Street, displaying a flag with a crown and the Hebrew word Moshiach. The literature being handed out claims:

"Our generation has been blessed with a leader of outstanding greatness, Rabbi Menachem M. Schneerson, the Rebbe, a person who has touched the lives of Millions - Jews and non-Jews alike. The Rebbe's prophetic words of wisdom have proven true time and again. He has urged us to prepare for the imminent revelation of the Messiah by observing the Seven Noahide Commandments given by G-d through Moses at Mount Sinai."

And in case you are wondering about these seven Noahide commandments (or seven universal Laws). they are:

1. To believe in G-d and renounce idolatry.

2. To honor the Almighty by not blaspheming.

3. To respect all human life and not commit murder.

4. To refrain from immoral conduct; adultery, incest and homosexuality.

5. To respect the property of others by not stealing.

6. To respect G-d's creatures and not partake of flesh from a living animal.

7. To foster justice by supporting honest courts of law.

This, they say, is the way to true peace. The ideas presented are a strange mixture of the ten commandments (Exodus chapter 20) heavily tinged with some humanism. There appears to be no Gospel of the kingdom of Israel, just a claim that some Rabbi is the long awaited Messiah and king.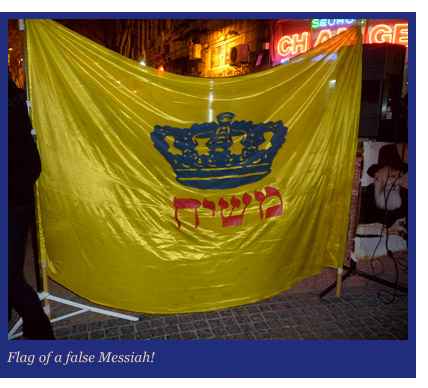 So the pattern of the past is repeated again. As it was in the days of John Baptist when, as Luke records it, "the people were in expectation" so today there is a general idea among people expecting Messiah. But this gives rise to false teachers and wishful thinkers. Jesus warned his generation and said (Matthew 24:11):

"And many false prophets shall rise, and shall deceive many."

And again in verses 24,25,

"For there shall arise false Christs, and false prophets, and shall shew great signs and wonders; insomuch that, if it were possible, they shall deceive the very elect. Behold, I have told you before."

These are conditions that we see in Jerusalem today.

A few days ago we met another man who also expected the appearance of Messiah, but confessed that he did not know who he was! This would be the view of many Jews here. Their question would be that of Psalm 24:8. "Who is this king of glory?" They know not their Messiah and LORD!

But let's face it, many who call themselves "Christians" do not know the true Messiah either. This was so even in the days of the apostle John, for he wrote:

"Beloved, believe not every spirit, but try the spirits whether they are of God: because many false prophets are gone out into the world. Hereby know ye the Spirit of God: Every spirit that confesseth that Jesus Christ is come in the flesh is of God: And every spirit that confesseth not that Jesus Christ is come in the flesh is not of God: and this is that spirit of antichrist, whereof ye have heard that itshould come; and even now already is it in the world" (1 John 4:1-3).

The true Jesus Christ of the New Testament came in the flesh. He had that nature which is common to us all. In his second epistle John wrote:

"For many deceivers are entered into the world, who confess not that Jesus Christ is come in the flesh. This is a deceiver and an antichrist" (verse 7).

The reason for this is explained in the epistle to the Hebrews where we read of Jesus that:

"Forasmuch then as the children are partakers of flesh and blood, he also himself likewise took part of the same; that through death he might destroy him that had the power of death, that is, the devil. And deliver them who through fear of death were all their lifetime subject to bondage. For verily he took not on him the nature of angels; but he took on him the seed of Abraham. Wherefore in all things it behoved him to be made like unto his brethren, that he might be a merciful and faithful high priest in things pertaining to God, to make reconciliation for the sins of the people. For in that he himself hath suffered being tempted, he is able to succour them that are tempted." (Hebrews 2:14-18).

Now this is a Messiah that the group on Ben Yehuda Street today know nothing about. Their so-called "Noahide" commandments will not save the world, or even prepare it for the coming of Messiah. There is nothing in their teaching "to make reconciliation for the sins of the people." The whole emphasis is upon keeping commandments and laws, hence we can say with the apostle Paul:

"Brethren, my heart's desire and prayer to God for Israel is, that they might be saved. For I bear them record that they have a zeal of God, but not according to knowledge. For they being ignorant of God's righteousness, and going about to establish their own righteousness, have not submitted themselves unto the righteousness of God. For Christ is the end of the law for righteousness to every one that believeth" (Romans 10:1-4).

So it is then that we await that day when the true Messiah will come and redeem his people and turn away ungodliness from Jacob, for he says, (Romans 11:27),

"For this is my covenant unto them, when I shall take away their sins."

Join us again next week, God willing - www.bibleinthenews.com



| | | |
| --- | --- | --- |
| | | |
| | | |
| | | |
Bible in the News provides a weekly analysis of world politics and events
in the light of Bible prophecy — the Bible in the News!