| | |
| --- | --- |
| | |

Unholy Democracy in Israel:
Israelis Prepare to Elect a New Government
February 6, 2009 - Audio, 10.75 MIN
(Links at bottom of page to download free viewers.)
EXTRA this week!
Bible in the news presents a special half-hour interview by Paul Billington with Yishai Fleisher recorded at Israel National Radio in Bethel Israel.
Click here for the MP3.
From Jerusalem, Israel, this is Paul Billington bringing you the Bible in the News just a few days before the election of a new government in this Land of the Bible. The democratic process is in full swing here as candidates make their pre-election promises, and as the people decide who they want in power.
At this stage the outcome is far from certain. There is a lot of activity going on both publicly and behind the scenes. We are very interested in this activity. Not because we take any part in politics or favour one party over another, but because we know that God is working out His purpose in the real political world. As the prophet Daniel wrote:

"This matter is by the decree of the watchers, and the demand by the word of the holy ones: to the intent that the living may know that the most High ruleth in the kingdom of men, and giveth it to whomsoever he will, and setteth up over it the basest of men."

So we have spent several days talking to people, attending political meetings and rallies, and comparing what we see and hear with the words of the prophets and the principles of Bible Truth.

Democracy in Israel--that is to say, the will of the people--has a long history. It has usually produced leaders and policies that have been opposed to the ways of God. The people murmured against Moses and rebelled. They chose king Saul rather than Samuel and the rule of God (1 Samuel 8:7). They wanted to be like all the nations. It was the democratic voice that demanded Barabbas, that was stirred up so as to reject Jesus and to clamour for his death. No; democracy does not have a good record in Israel!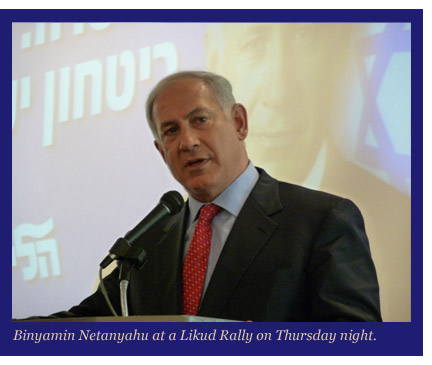 On Thursday evening we went to hear Benjamin Netanyahu make his promises to the people. He is leading in the polls, but only just. This is what he said:

"We have to fight for Zionism. (Applause)

"We have to show the reason why we're here. The reason why we should fight for this country. The reason why we should keep this country. The reason why we should protect Jerusalem. It's our heritage. It IS the Rock on which we stand and no country that respects itself, that educates itself on its heritage has lost this battle. These are the things that we are going to do: Security, the quest for peace, the economy and education. Who else is going to do it?

"Who else is going to do this? And I ask this of you to ask it of others, of your friends, your many friends in the National Camp. Those who consider voting for other parties, and ask them--who is going to deal with all these crises?

"Who is going to face up to Iran?

"Who will uproot the terror?

"Who will reform the economy? Reform our educational system. Protect the jobs. Protect Jerusalem. Protect the Golan. Who will do this?

"There is only one party that will do it. That party is our party. The Likud. (Applause)"

This Zionism that Netanyahu says he wants to foster is one based upon political ideals. As John Thomas put it in his book Elpis Israel over 150 years ago: "The pre-adventual colonization of Palestine will be on purely political principles." And so it is.

These political principles are operating under the banner of democracy--but democracy lends itself to wheeling and dealing, to bribery and corruption, and to all the manipulations of men who seek power for themselves. As one man in Beit-El told us, there is a lot of behind-the-scenes bargaining that goes on: 'If you support me here I will see that you get such and such a position in government.' So cabinet posts are awarded and the whole power structure is built up for the benefit of those who hold the reins of power. The political system in Israel is particularly vulnerable to this, especially when coalition governments require compromises, and when ideological principles are bargained away. You really do end up with the basest of men in power.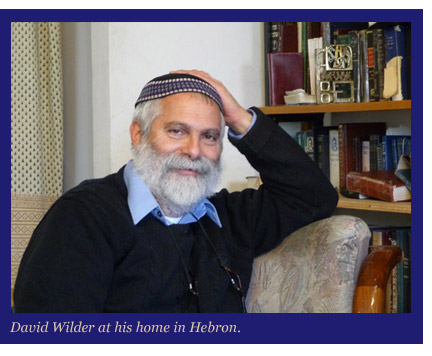 So people feel that they cannot trust the political leadership. We were discussing the possible future leadership of Netanyahu with David Wilder--the spokesman for the Jews of Hebron--when we visited him in his home there. Here is part of what David Wilder had to say:

"It's difficult, though, when you see a man who has said that he wants to form a very broad coalition, bringing in Ehud Barak as Defence Minister and Tzipi Livni as Foreign Minister. So where's he going? You know? And in Israeli politics once you start to look back a few years--Unfortunately my memory isn't too good but people have worse memories than mine. If you go back to the days of Menachem Begin, when he became Prime Minister, and who did he bring in to work with him? Who did he surround himself with?

"He kept Moshe Dayan, who is left and he brought in Ezer Weizmann who by that time had also gone left and he took them with him to Camp David. And what advice did they give him? They said "Give it to him! Give it to him! Give it to him! Okay!"

"And if that's who you surround yourself with, those people are going to be giving you advice and that's what you're going to do in the end. You know.

"I would prefer to see him bring in somebody like Katzela from the National Unity Party and make him Ministry of Housing and maybe, you know, it's difficult to know, but take Bogey Yaa'lon who is against Gush Katif, and put him in his Defence Minster and bring in somebody good as a Foreign Minister and take Avigdor Lieberman, who I don't trust either, but he's making more noise that way than he is that way and say "I want you to be in charge of internal security." And let them run the country.

"We have to wait and see what happens after the elections."

Well, that is Mr Wilder's preferred selection, but at this point it isn't even certain that Bibi Netanyahu's--Likud will win. And even if he does, the possibility of a so-called unity Government is very much on the cards.

You see, there is another development here in Israel that could influence the outcome, and that is the growth--or perhaps we should say "surge" in nationalism, some of which is religious Zionism. One party that represents nationalism is headed by Avigdor Lieberman and it has become one of the top three in opinion polls. Lieberman has a strong line on dealing with the Arabs and is cast as an extremist. So there is a tremendous effort to discredit his party--Labour doesn't want to work with him, and another party (Shas) says it would be an unforgivable sin to vote for him. It will be interesting to see the final outcome, and whether he can be manipulated out of the picture.

The other interesting force in this election is the religious right; the Zionists whose foundation is the promises, the Torah and the prophets. We have called them "Israel's New Zionists," and we have produced a DVD presentation about them under that title.

In 1849 John Thomas made an important statement in his book Elpis Israel. He wrote:

"The restoration of Israel is a most important feature in the divine economy (or purpose). It is indispensable to the setting up of the kingdom of God; for they are the kingdom, having been constituted such by the covenant of Sinai, as it is written, "Ye shall be unto me a kingdom of priests, and a holy nation." The apostles understood this well enough, and so do all who understand the Gospel of the Kingdom."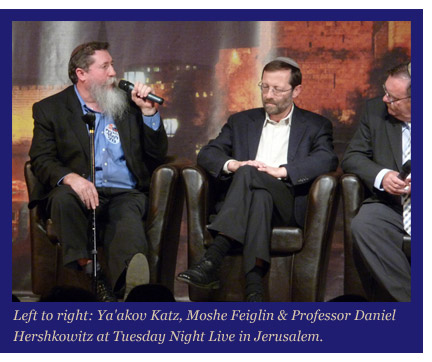 But how few there are in the Christian world of today who understand this Gospel! The restored nation that we see here today is the nucleus or basis for the coming kingdom of God--because "they are the kingdom." So it was quite something when we heard this idea stated by a religious Likud member, Moshe Feiglin, in a speech just the other day. This is what he said:

"We have a goal to the entire nation to fix the world in the Kingdom of God. That is the reason why we need to (keep) Israel together. That's the reason why we exist as Jews. That's why we need Jewish leadership. And without that we don't have the right to be here at all.

"The first thing I'm going to do, Is go to the Temple Mount. (Applause)."

This is the element that is growing in strength here in Israel--and it is the element that those in power want to see crushed. Those of us who are looking for the consolation of Israel and for the coming kingdom of God cannot but help to prick up our ears when we hear such things.

The kingdom will not come through the democratic process of course, but it will come when "there shall come out of Zion the Deliverer, and shall turn away ungodliness from Jacob" (Romans 11:26).

The nation of Israel is heading for a political earthquake--a revolution. How near are we to this? This election will determine whether Israel turns to the right or to the left. Either way, we see the time of redemption drawing near, the time when the true Messiah will come; Jesus Christ who, as the redeemer of Israel, will restore again the kingdom to Israel.

Continue to watch with us and join us again in Jerusalem next week, God willing, as we consider the continuing story of Israel on BibleintheNews.com


| | | |
| --- | --- | --- |
| | | |
| | | |
| | | |
Bible in the News provides a weekly analysis of world politics and events
in the light of Bible prophecy — the Bible in the News!