| | |
| --- | --- |
| | |

Jerusalem Covered With Snow:
A Symbol of Coming Righteosness!
January 31, 2008 - Audio, 10.50 MIN
(Links at bottom of page to download free viewers.)
Welcome to the Bible in the News. This is Paul Billington speaking with you from Jerusalem in Israel--and as I speak it is a Jerusalem that is covered with a blanket of snow, bringing to mind those words of Isaiah the prophet:
"Come now, and let us reason together, saith the LORD: though your sins be as scarlet, they shall be as white as snow; though they be red like crimson, they shall be as wool. If ye be willing and obedient, ye shall eat the good of the land: But if ye refuse and rebel, ye shall be devoured with the sword: for the mouth of the LORD hath spoken it. How is the faithful city become an harlot! it was full of judgment; righteousness lodged in it; but now murderers" (ch. 1:18-21)

Well, those words also remind us of the city in its present state, ruled as it is by corrupt politicians whose sole objective seems to be to preserve their own power. This is reflected to some extent in the Winograd Report released on Wednesday which is supposed to have examined the role of the Israeli Government and army in the 2006 Lebanon war. Although the media says that the report has "savaged flawed planning and deficient strategy""in that war, it has whitewashed the Prime Minister (Olmert), helping him and his Government to hold on to power and push forward with their peace-plans--plans which involve withdrawals from the Wet Bank, and forcing Jewish settlers from their homes.

But many here doubt that the plans will actually bring the peace of Jerusalem. What they are doing is to create deep divisions among Jews in Israel--between those who have a belief in the Scriptures, and who therefore see the situation from a Biblical perspective, and those who are here in unbelief of the Biblical promises.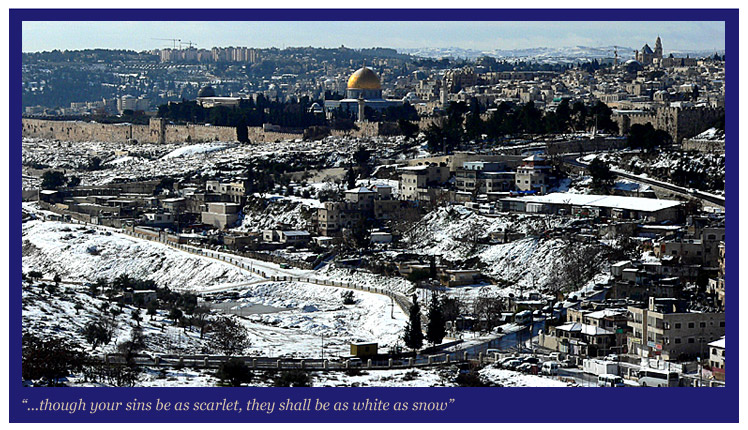 Even those Jews who do believe in the Biblical promises have much to learn. Ritual and tradition are still strong with many of them. This past weekend we spent the Sabbath with a Jewish family in the West Bank--and it really was an experience. We saw many good things and commendable, but we also saw much pointless ritual based upon what is called the Oral Law--the Talmud. Shelves and shelves of books which Rabbis have written over centuries, and which these people hold to be as sacred as the Scriptures themselves.

The Sabbath begins with lighting candles and the saying of prayers and songs:

Sholom alaychem mal-achay hashorays mal-achay elyon, mimelech malchay hamlochim hakodosh boruch hu. Bo-achem l'sholom mal-achay elyon, mimelech malchay hamlochim hakodosh boruch hu."

This prayer is supposed to welcome the presence of angels for Shabbat. It translates into English as:

"Welcome, minstering angels, messengers of the Most High, of the supreme King of Kings, the Holy One, blessed be He. Come in peace, messengers of peace, messengers of the Most High, of the supreme King of Kings, the Holy One, blessed be He."

It really was a family meal, each course being interspersed with prayer, psalms and discussion about the Law, the prophets and even current events relating to it. The father of the household presides over the meal and it has to be said that the principle of Deuteronomy 6:7 underlines the proceedings. It reads:

"And thou shalt teach them diligently unto thy children, and shalt talk of them when thou sittest in thine house, and when thou walkest by the way, and when thou liest down, and when thou risest up" (Deut. 6:7).

It is designed to be a spiritual meal as much as it is a natural one--and it includes a breaking of bread which is modelled upon that which Abraham had with Melchizedek (Genesis 14:18-19).

Though it is in many ways impressive, the proceedings include special rituals such as the washing of hands (this is done in a special way under running, that is to say poured out, water). There is the special use and washing of pots and many such-like things which are seen as being righteousness.

The last verse of Deuteronomy 6 reads:

"And it shall be our righteousness, if we observe to do all these commandments before the LORD our God, as he hath commanded us."

In Romans 10:1-3 the apostle Paul comments:

"Brethren, my heart's desire and prayer to God for Israel is, that they might be saved. For I bear them record that they have a zeal of God, but not according to knowledge. For they being ignorant of God's righteousness, and going about to establish their own righteousness, have not submitted themselves unto the righteousness of God."

Despite all this, Paul assures us in Romans 11 that God has not cast away his people. He will restore them and all Israel shall be saved. "How
unsearchable are his judgements, and His ways past finding out." God is working with this people and they will be formed into the basis of the Kingdom.

Here in Israel, against all odds, a Biblical culture is slowly developing. There is much for these people to learn and the road is a hard one. They live here under continuous threat from Palestinian terror, as well as the threat of eviction by their own Government. Life is hard.

This was brought home to us when we went in to the emergency control centre near Beit El. There is constant surveillance of the whole area with cameras. Our guide commented on this and explained the operation. (Explanation contained on the audio version.)

No doubt these hard things are part of a process that will teach the people, but it remains for the Deliverer to come and turn away ungodliness from Jacob and for the New Covenant to be made with them. This is God's work with this people, and we can observe the beginning of it with the religious Zionist settlers who today look for the coming of the Messiah and for redemption.

As the picture of Jerusalem covered with snow reminds us of the coming age of righteousness, we are encouraged to see the fulfillment of the
prophecies of the restoration beginning, knowing that "as the rain cometh down, and the snow from heaven, and returneth not thither, but watereth the earth, and maketh it bring forth and bud, that it may give seed to the sower, and bread to the eater: So shall the word of God be, that goeth forth out of His mouth: it shall not return unto Him void, but it shall accomplish that which He pleases, and it shall prosper in the thing whereto He sent it." --Isaiah 55:10,11.

Yes, the Bible is in the news, and especially here in the Land of Israel. Join us again next week God willing, when we will have more to tell you.


| | | |
| --- | --- | --- |
| | | |
| | | |
| | | |
Bible in the News provides a weekly analysis of world politics and events
in the light of Bible prophecy — the Bible in the News!