Peace in the Holy Land seems a long way off with violence and anger escalating between Israel and the Palestinians. This is Matt Davies joining you for another Bible in the News.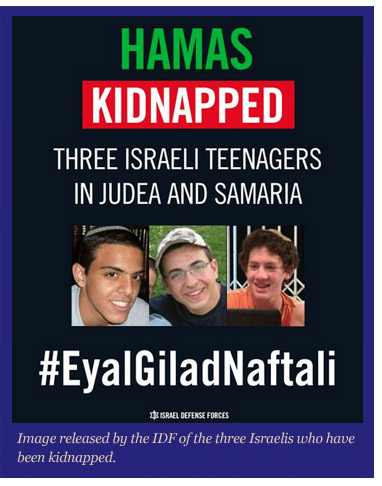 Kidnapped Teenagers
It was just over a week ago that three Israeli boys began their journey home from Jewish seminaries near Hebron in the West Bank. As is normal in Israel, it was thought they were attempting to walk home to Jerusalem and thumb a lift. However the boys did not make it home.

It is thought that 16-year-old Naftali Fraenkel, Gilad Shaer, also 16, and Eyal Yifrach, who is 19, have been kidnapped by Hamas.

In the past such kidnappings have not ended well. Many have ended in the death of those who have been abducted. Those that have seen the victims eventually released have occurred at a huge price for Israel with Hamas asking for ridiculous trades before they will release their prisoners.

For example, back in 2006 Israeli Corporal Gilad Shalit was kidnapped and held captive in the Gaza Strip. Hamas demanded the release of 1027 convicted terrorists in exchange for the released of this one single Israeli solider. In October 2011 this deal was eventually completed, Gilad finally being released after 5 years in captivity. In exchange the 1027 Palestinian prisoners were released reluctantly by Israel - according to Israeli government sources these prisoners were collectively responsible for over 500 Israeli deaths.

It is clear that kidnappings are part of the Hamas terrorist strategy to strike fear into Israelis. Since the beginning of 2013 it has been reported that Israel has managed to stop 64 attempted kidnappings - many planned by Hamas.

Last July, Ismail Haniyeh, the Hamas Prime Minister in a video recorded speech said "The brave resistance that kidnapped and held captive, while liberating can in Allah's will do the same again"...

A Senior Hamas political leader, Muhammad Nazal, said the kidnapping of the Israeli teenagers was "a heroic capture" and "a milestone" for the Palestinian people.

It is because of this type of attitude that the USA, the EU and other nations see Hamas as a terrorist group.

No one knows at this moment what it is that Hamas wants for the release of these three boys, or if in fact they are even alive still.



Operation Brothers Keeper


The Israeli Defence Force (IDF) has been hard at work trying to find the lost teenagers, calling the operation "brothers keeper". They have been searching Palestinian villages in Judah and Samaria in over 900 locations and have found and confiscated huge stock piles of weapons. This has been met with huge resistance by the Hamas organisation leading to a number of arrests. According to recent reports over 300 Palestinians have been arrested and detained, over 50 of these were prisoners released back in 2011 in the exchange for Gilad Shalit who had broken the terms of that release.

As the search continues violence is breaking out all over the West Bank. Attacks on the IDF are frequent with many reports of rocks and makeshift explosives being hurled. This had lead to some Palestinian deaths.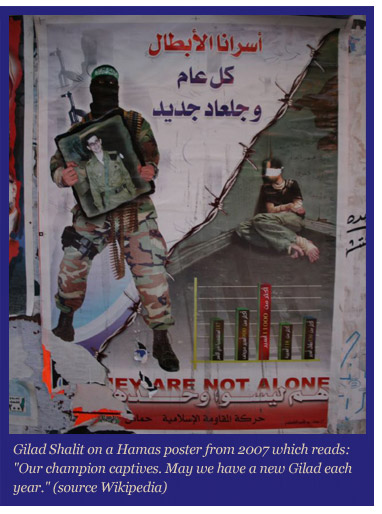 Splits within the new Palestinian Unity and a Third Intifada
A few weeks ago on Bible in the News, we heard about the uniting of Fatah and Hamas, an event which led to the end of the Palestinian peace talks with Israel. With the recent kidnapping, it seems Israel has found a way of legitimately damaging the new unity group.

In Hebron a full lockdown has been implemented by the IDF including roadblocks whilst they search for the missing boys. This has lead to anger not only against Israel, but also against the PLO who govern the region as they are seen to not be protecting the Palestinians from the IDF.

Whilst Hamas leaders are praising the kidnapping, the leader of the PLO, Mamodd Abbas, has condemned the abductions revealing a deep split within the Palestinian community. Abbas has attempted to cooperate with Israel, "Security coordination with Israel serves Palestinian interests because it helps prevent a new uprising, which would destroy us," he said. He was also reported as saying "These three boys are human beings like us, and they should be returned to their families".

Hamas on the other hand, have threatened a third intifada against Israel. The Jerusalem Post reported on Thursday 19th that Salah Bardawil, a Hamas official had said "We are capable of igniting a third Intifada and this is our irrevocable right. It will go off when enough pressure is exerted on the Palestinian people". In a press conference Hamas promised to "rain hell on Israel" should Operation Brothers Keeper continue and also slammed Abbas for supporting Israel in the matter.

In response to these divisions President of Israel, Netanyahu has called on Abbas to "dissolve the union with this murderous terrorist organisation." saying that he thought it "important for our common future."



The Hope Of Israel


The Apostle Paul in Acts 28 was a prisoner on his way to Rome. He had been taken prisoner by the Romans after being severely beaten in Jerusalem by an angry mob because he was preaching the gospel, the things of Jesus Christ and of the Kingdom of God. Paul had appealed to be heard of Caesar in the matter and was on his way to Rome as a prisoner when the ship he was sailing on was wrecked on the island of Malta. We read of what happens after Paul gets safely to shore in Acts 28:17-22:



"And it came to pass, that after three days Paul called the chief of the Jews together: and when they were come together, he said unto them, Men and brethren, though I have committed nothing against the people, or customs of our fathers, yet was I delivered prisoner from Jerusalem into the hands of the Romans. Who, when they had examined me, would have let me go, because there was no cause of death in me. But when the Jews spake against it, I was constrained to appeal unto Caesar; not that I had ought to accuse my nation of. For this cause therefore have I called for you, to see you, and to speak with you: because that for the hope of Israel I am bound with this chain."



The apostle viewed his preaching as the hope of Israel. What hope was this? On careful reading we realise that his hope was for the restoration of God's Kingdom of Israel in the past with the Lord Jesus Christ as king sitting on king David's throne of old. This will be the golden age in the earth's history. A time of peace when kidnappings of teenagers and division in Israel will be a thing unheard of. This is the Jewish hope, the ultimate fulfilment of God's promises to the fathers of the nation of Israel, Abraham, Isaac and Jacob, when all nations will be at peace.

This time is spoken of by the prophet Isaiah who in Isaiah 9:6-7 tells of how by one man, Jesus Christ, this will occur:


" For unto us a child is born, unto us a son is given: and the government shall be upon his shoulder: and his name shall be called Wonderful, Counsellor, The mighty God, The everlasting Father, The Prince of Peace. Of the increase of his government and peace there shall be no end, upon the throne of David, and upon his kingdom, to order it, and to establish it with judgment and with justice from henceforth even for ever. The zeal of the LORD of hosts will perform this."





Peace is coming in the Kingdom of God


So as we look at the trouble in Israel at this moment in time we, who have faith in Yahweh, the God of Israel, must not loose sight of the Hope of Israel. Peace is coming, but lasting peace will not be brought about without the intervention of God Himself through his son the Lord Jesus Christ. This is the only true hope for peace in the Middle East. How in need the world is of the return of Messiah, Jesus the Christ.

We join to reflect the words of the Psalmist in Psalm 72 back to God who gave them to us. Words of praise and prophecy about the return of the king, the Lord Jesus:



"Give the king thy judgments, O God, and thy righteousness unto the king's son. He shall judge thy people with righteousness, and thy poor with judgment. The mountains shall bring peace to the people, and the little hills, by righteousness. He shall judge the poor of the people, he shall save the children of the needy, and shall break in pieces the oppressor. They shall fear thee as long as the sun and moon endure, throughout all generations. He shall come down like rain upon the mown grass: as showers that water the earth. In his days shall the righteous flourish; and abundance of peace so long as the moon endureth. He shall have dominion also from sea to sea, and from the river unto the ends of the earth. They that dwell in the wilderness shall bow before him; and his enemies shall lick the dust. The kings of Tarshish and of the isles shall bring presents: the kings of Sheba and Seba shall offer gifts. Yea, all kings shall fall down before him: all nations shall serve him. For he shall deliver the needy when he crieth; the poor also, and him that hath no helper. He shall spare the poor and needy, and shall save the souls of the needy. He shall redeem their soul from deceit and violence: and precious shall their blood be in his sight. And he shall live, and to him shall be given of the gold of Sheba: prayer also shall be made for him continually; and daily shall he be praised. There shall be an handful of corn in the earth upon the top of the mountains; the fruit thereof shall shake like Lebanon: and they of the city shall flourish like grass of the earth. His name shall endure for ever: his name shall be continued as long as the sun: and men shall be blessed in him: all nations shall call him blessed. Blessed be the LORD God, the God of Israel, who only doeth wondrous things. And blessed be his glorious name for ever: and let the whole earth be filled with his glory; Amen, and Amen."



This has been Matt Davies, joining you for the Bible in the News. Come back next week, God willing, at www.bibleinthenews.com