Showers of Blessing Upon Israel while the Nations Decay

Record rain upon Israel and snow in the hill country.

Saturday, January 12, 2013

www.bibleinthenews.com Audio & Print versions
As 2013 begins we find ourselves in a world that is still politically and economically very unstable. We know that things can change in a moment. This instability and the potential disasters which could either be caused by man, or by the Almighty, create a sense of fear in people - and for good reason.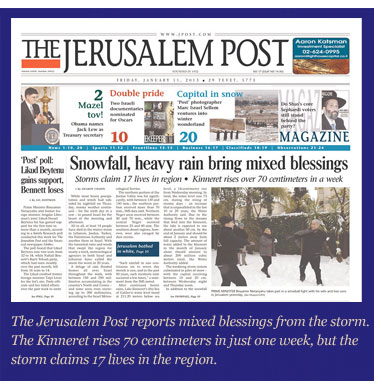 Two examples of how unstable the world is and the terrifying prospects which could be faced, caught our attention in the news today.

First, the rebel forces in Syria have just taken control of a major military air base. Ynet news reports: "After seizing strategic airbase of Taftanaz, rebels turn to their main target: Presidential palace in Damascus. 'With Allah's help, we are headed in your direction Bashar,' websites affiliated with rebels state." Syria is a country that has chemical weapon capability. No one knows when an individual with access to chemical weapons could defect to the rebel side, or when these weapons could fall into rebel hands; in a time when the rebels take control of military installations - such as airports and bases as they have just done. The results could be horrifying and the potential for disaster is very real. Consider also that the rebels are Islamic extremists and that some of those that took over the airport today are affiliated with al-Qaeda - as reported by Ynet news.

Secondly, today Spain has seized materials, banned for sale to Iran by the EU, bound for Iran's nuclear program. It is clear to everyone that Iran will continue to pursue its nuclear program despite threats and sanctions. Time Magazine has an opinion piece entitled, "The Year We Reckon With Iran". That is a daunting prospect.

Well there was some good news in Israel this week. For a country that desperately needs water, the large winter storm that hit, bringing rain and even 10cm of snow to Jerusalem and the hill country was very welcome. Even though the storm caused wide spread disturbances, it was considered a blessing. Water is so treasured in this region that it is a factor which could influence peace, or lead to war with Israel's neighbours.

The Kinneret (or sea of Galilee), rose 78 centimetres in one week, and is still expected to rise another 50 centimetres in coming days, as swollen rivers empty into the lake. The Kinneret is Israel's largest single source of fresh water. This from Israel National News.

The rain is such big news, it also made it into Canada's National Post news site. The National Post reported:

"In Israel, the level of the Sea of Galilee rose on Tuesday by more than eight and a half inches — the highest rise for a single day since Israel began taking measurements in the 1920s, according to Uri Schor, the spokesman for Israel's Water Authority.

"From the Sea of Galilee the water is pumped throughout Israel by a system called the National Water Carrier. The heavy rainfall is welcomed in Israel where rain is often referred to as "rain of blessing.""

The article also noted that, "...water authority spokesman Schor said that the huge quantities of rain come after seven years of drought in Israel."

Rain is considered a blessing in Israel today, as it was in Bible times.

Ezekiel's prophecies of restoration, are a series of prophecies regarding the restoration of the Jewish people, to their land and their God which culminate in Ezekiel's prophecy of the future temple, the house of prayer for all nations, which will be established in Jerusalem. In Ezekiel 34, one of these prophecies, God says through the prophet in verses 26 - 28:

"And I will make them and the places round about my hill a blessing; and I will cause the shower to come down in his season; there shall be showers of blessing. And the tree of the field shall yield her fruit, and the earth shall yield her increase, and they shall be safe in their land, and shall know that I am the LORD, when I have broken the bands of their yoke, and delivered them out of the hand of those that served themselves of them. And they shall no more be a prey to the heathen, neither shall the beast of the land devour them; but they shall dwell safely, and none shall make them afraid."

So "showers of blessing" are something that is to be associated with the restoration of Israel to spiritual greatness. There is of course a spiritual lesson which comes from the idea of rain.

Deuteronomy 32:1-3 says:

"Give ear, O ye heavens, and I will speak; and hear, O earth, the words of my mouth. My doctrine shall drop as the rain, my speech shall distil as the dew, as the small rain upon the tender herb, and as the showers upon the grass: Because I will publish the name of the LORD: ascribe ye greatness unto our God."

The absence of God's word upon the land is likened to the absence of rain. Amos 8:11 "Behold, the days come, saith the Lord GOD, that I will send a famine in the land, not a famine of bread, nor a thirst for water, but of hearing the words of the LORD".

Deuteronomy points out that the land of Israel is distinct in that it is watered by God from heaven, in contrast to the land of Egypt. In the land of Israel you have to rely upon God for water. "For the land, whither thou goest in to possess it, is not as the land of Egypt, from whence ye came out, where thou sowedst thy seed, and wateredst it with thy foot, as a garden of herbs: But the land, whither ye go to possess it, is a land of hills and valleys, and drinketh water of the rain of heaven:"

The land of Israel was designed in a way to teach spiritual lessons and reliance upon God. God always cared for the land and it is watered by his hand and not by man. After the years of drought in the time of Ahab, Elijah saw a cloud like a man's hand arising when the rain finally came. "And it came to pass at the seventh time, that he said, Behold, there ariseth a little cloud out of the sea, like a man's hand. And he said, Go up, say unto Ahab, Prepare thy chariot, and get thee down, that the rain stop thee not." - 1Kings 18:44

The heavens are just as much controlled by the unseen hand of the Almighty today as they were in the days of Ahab and Elijah. Living in the land of Israel, still teaches that man must rely upon God for rain. Rain is still a blessing from God.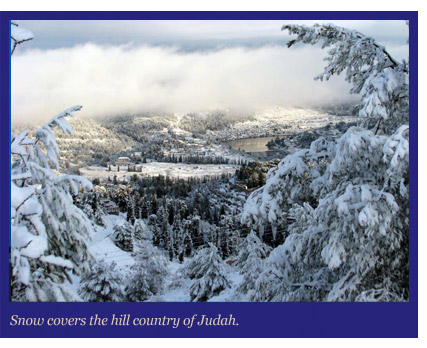 Around Jerusalem there was not only abundant rainfall but also ten centimetres of snow.

Psalm 147:15-19 reads, "He sendeth forth his commandment upon earth: his word runneth very swiftly. He giveth snow like wool: he scattereth the hoarfrost like ashes. He casteth forth his ice like morsels: who can stand before his cold? He sendeth out his word, and melteth them: he causeth his wind to blow, and the waters flow. He sheweth his word unto Jacob, his statutes and his judgments unto Israel."

The section in Psalm 147 is clearly talking about the word of God, his statutes, judgments and commandments coming to Israel. Snow is a white covering which covers the ground. Hoarfrost comes from the hebrew root "to cover", because it covers the ground. The is the same root for atonement - covering. Snow is a symbol of purity, of righteousness. It is a covering for the land. Atonement for the land.

"Come now, and let us reason together, saith the LORD: though your sins be as scarlet, they shall be as white as snow; though they be red like crimson, they shall be as wool." - Isaiah 1:18

"Purge me with hyssop, and I shall be clean: wash me, and I shall be whiter than snow." - Psalm 51:7

Rain and snow upon the land of Israel, points to a time when the land will be atoned for and blessed by God with his word. We pray that the years of spiritual drought will soon be over and the nation will be in Christ, clothed in white garments and instructed in the word of God.

Return next week God willing, when we will once again consider the unseen hand of God in the events of Israel and the world, preparing for the great day of God Almighty. This has been David Billington with you.



Printed: Saturday, January 12, 2013
Visit www.bibleinthenews.com for a weekly analysis of world politics in the light of Bible prophecy!