Obama! Let my people grow.

Jewish Settlements Experience Rapid Natural Growth.

Friday, August 07, 2009

www.bibleinthenews.com Audio & Print versions
Obama continues to push Israel hard to freeze all growth of the so-called settlements, in the mountainous area of Judea and Samaria, known today as the West Bank. In response a poster is being put up in Israel with the slogan, "Obama! Let my people grow." Obviously a take off from when - in the words of the famous song - Moses asked Pharaoh to "Let my people go!" The situation at the time of the Exodus is described in the book of Exodus 1:7-10: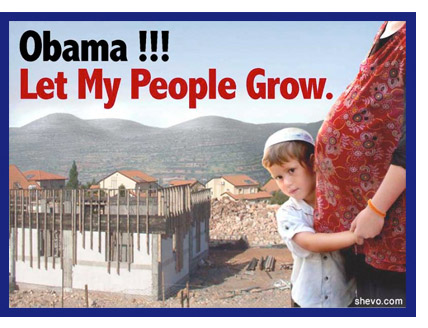 "And the children of Israel were fruitful, and increased abundantly, and multiplied, and waxed exceeding mighty; and the land was filled with them. Now there arose up a new king over Egypt, which knew not Joseph. And he said unto his people, Behold, the people of the children of Israel are more and mightier than we: Come on, let us deal wisely with them; lest they multiply, and it come to pass, that, when there falleth out any war, they join also unto our enemies, and fight against us, and so get them up out of the land."

So it is today in Israel, particularly amongst the religious Jews in these settlements, in the mountainous area of Judea and Samaria. These Jews have very large families - they are fruitful, increasing abundantly, multiplying and becoming mighty. When the presidents, prime-ministers and religious leaders of this world see the Jews multiply they get nervous - just like Pharoah of old! A resent report published by an investigative think tank in the USA called "International Crisis Group" makes interesting reading aside from the anti-Israel bias throughout. It is a high-profile report and will be read by many in the Obama administration and the State Department. The report is entitled: "Israel's religious right and the question of settlements." The report points out how the religious right - the settlers - believe time is on their side and then proposes ways to divide and conquer the settler movement and get them out of the way in order to establish another Arab state. The report says:

"The religious right believes it has time on its side. Its two principal camps – the national-religious and ultra-orthodox – boast the country's highest birth rates. They have doubled their population in West Bank settlements in a decade. They are rising up military ranks. Their political parties traditionally play important roles within ruling government coalitions."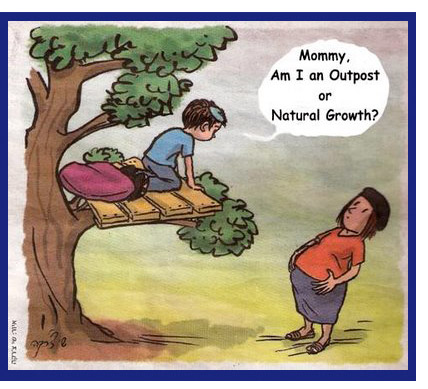 Obama, the Europeans, and the Pope all realize that time is not on their side. If they don't stop the settler movement soon it will be practically impossible to get any Israeli government to try and take on the task - this may already be the case. If and when this is the case, the biblical heartland of Israel and the city of Jerusalem stays under Jewish control. With the kind of reality of the Jewish West Bank population doubling in a decade we can see why Obama and the Europeans don't like the idea of allowing natural growth in the settlements - this is what they are worried about! The issue of the day is Jewish population growth in the West Bank. In a resent cartoon a little Jewish boy from his tree fort asks his mother: "Am I an outpost or natural growth?". The only people who seem to have all the time in the world are the Arabs, who are living up to their tradition of rejecting every peace proposal that comes their way thinking they will get a better deal or still cherishing their dream of wiping Israel out completely.

Well we shouldn't be surprised that the Jews are multiplying on the mountains of Israel, it was prophesied well over 2500 years ago by the prophet Ezekiel in chapter 36 verses 8-12:

"But ye, O mountains of Israel, ye shall shoot forth your branches, and yield your fruit to my people of Israel; for they are at hand to come. For, behold, I am for you, and I will turn unto you, and ye shall be tilled and sown: And I will multiply men upon you, all the house of Israel, even all of it: and the cities shall be inhabited, and the wastes shall be builded: And I will multiply upon you man and beast; and they shall increase and bring fruit: and I will settle you after your old estates, and will do better unto you than at your beginnings: and ye shall know that I am the LORD. Yea, I will cause men to walk upon you, even my people Israel; and they shall possess thee, and thou shalt be their inheritance, and thou shalt no more henceforth bereave them of men."

This is the nucleus or basis for future operations in the holy land when Jesus Christ come to be king of the Jews. Come back next week God-willing as we continue to watch events unfold. This has been David Billington with you at www.bibleinthenews.com.


Printed: Friday, August 07, 2009
Visit www.bibleinthenews.com for a weekly analysis of world politics in the light of Bible prophecy!