Jerusalem Day & The Coming Redemption

As nations try to dictate Jerusalem's future, the God of Israel works out His plan.

Thursday, May 21, 2009

www.bibleinthenews.com Audio & Print versions
Thursday May 21st was "Jerusalem Day," and marked 42 years since the city was reunified as a result of the 1967 Six-Days War. At a ceremony that was held to celebrate that event, Prime Minister Benjamin Netanyahu said, "United Jerusalem is Israel's capital. Jerusalem was always ours and will always be ours. It will never again be partitioned and divided."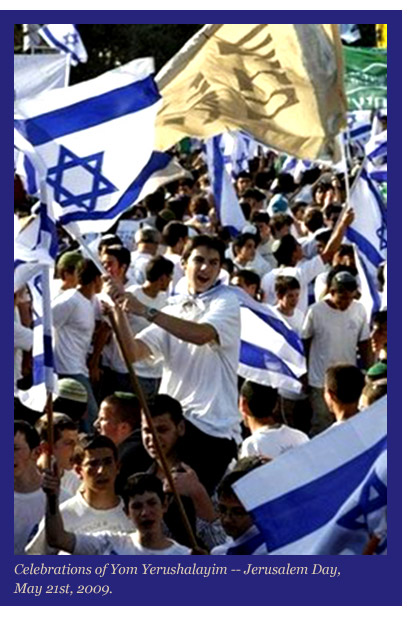 Quoting those words which were spoken earlier today, this is Paul Billington bringing you this edition of the Bible in the News.

Within hours of returning to Israel from a meeting with U.S. President Hussein Obama, Netanyahu's words were courageous, if not defiant, and clearly conflicted with Obama's insistence on the so-called "Two-state solution." As London's "Daily Telegraph" reported it:

"Mr Obama was unable to secure any commitments on ceasing the construction of Jewish settlements in the West Bank or embracing the "two-state solution" to achieving peace in the Middle East."

A report from the Palestine Media Center (May 20) was headed "US Promised Jerusalem will be Palestine's Capital." The report said:

"The Palestinian Authority (PA) has been assured that US President Barack Obama's new peace plan includes a Palestinian state with its capital in Jerusalem.

"PA officials told the Israeli newspaper Yediot Ahronot that the US intends to stand by its policy that East Jerusalem should be the Palestinian capital. Obama is expected to roll out the peace plan in Cairo on 4 June."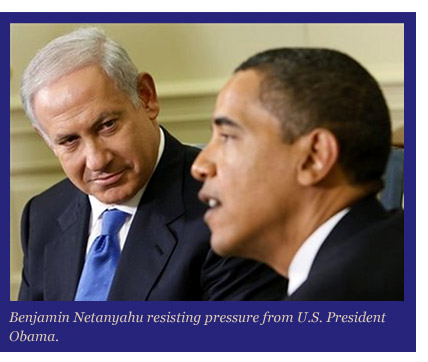 The clash is loud and clear. It is hard to see how someone, somewhere, can avoid losing face. But not only does Mr. Netanyahu find himself at odds with the Obama Administration, the whole world is screaming for the creation of a Palestinian State. Just over a week ago the pope was in Israel calling for a 'Palestinian Homeland.' This was commented upon on in our programme last time. A chorus of political centres echoed the pope's policy: the European Union, Russia, Britain's former Prime Minister Tony Blair--not to mention all those of the Arab world of course. The pressure on Benjamin Netanyahu is tremendous.

As Bible readers, the words of Zechariah the prophet must ring in our ears:

"And in that day will I make Jerusalem a burdensome stone for all people: all that burden themselves with it shall be cut in pieces, though all the people of the earth be gathered together against it" (chapter 12:3).

Well, it seems that all the peoples of the earth are gathering together against it. And if so, it is the Bible again that tells us of the Power that is moving the nations of the world in this direction. It is Zechariah again who tells (chapter 14:2):

"For I will gather all nations against Jerusalem to battle..."

And it is Joel 3:2 that says:

"I will also gather all nations, and will bring them down into the valley of Jehoshaphat, and will plead with them there for my people and for my heritage Israel, whom they have scattered among the nations, and parted my land."

Many people who read these passages of the Bible see them as saying that the nations will gather against Jerusalem in order to overthrow it--and with the city they see the destruction of Israel. But if we read these passages more carefully--and in context--we shall see that the end in view is quite different.

First, notice that passage from Joel chapter 3. The "valley of Jehoshaphat", is literally translated, the valley of Judgment (shaphat). The nations are being brought down for judgment. That is the obvious sense. They must answer for their treatment of "my heritage Israel, whom they have scattered among the nations and parted my Land." So in verse 12 the God of Israel says of this valley of Jehoshaphat, "... for there will I sit to judge all the heathen (nations) round about."

This, of course is "a place called in the Hebrew tongue Armageddon" (This word when analysed, has the meaning of 'A heap of sheaves in a valley of threshing'). The idea in Joel and Revelation 16:16 is the same--nations being gathered for judgment.

Another passage of Scripture to be considered here of course is Ezekiel chapter 38, where again we see many nations being brought down upon the mountains of Israel. Again, here in verse 17 God says that He is bringing the nations against Israel. And again they are brought there in order to receive terrible judgments:

"For in my jealousy and in the fire of my wrath have I spoken, Surely in that day there shall be a great shaking in the land of Israel... And I will plead against him with pestilence and with blood; and I will rain upon him, and upon his bands, and upon the many people that are with him, an overflowing rain, and great hailstones, fire, and brimstone" (Ezek. 38:19,22).

This is the time of Divine intervention on Israel's behalf. In the words of Zechariah 14:5,

"... The LORD my God shall come, and all the saints with thee."

So as we see these things beginning to come to pass, we know that the dawn of the Redemption is at hand.

Yes. A time of trouble lies ahead, but 'He who shall Save' will judge the corrupt nations in righteousness, and bring into being the restored kingdom of Israel. The ultimate picture is given to us in Zechariah chapter 8,

"Thus saith the LORD; I am returned unto Zion, and will dwell in the midst of Jerusalem: and Jerusalem shall be called a city of truth; and the mountain of the LORD of hosts the holy mountain. Thus saith the LORD of hosts; There shall yet old men and old women dwell in the streets of Jerusalem, and every man with his staff in his hand for very age. And the streets of the city shall be full of boys and girls playing in the streets thereof" (verses 3-5).

It is for this consummation that we watch and wait. The REAL 'Day of Jerusalem' is in the near future, and we invite you to join us on BibleintheNews.com to watch with us week by week.



Printed: Thursday, May 21, 2009
Visit www.bibleinthenews.com for a weekly analysis of world politics in the light of Bible prophecy!