Remembering the Holocaust

& Looking to Israel's Future

Thursday, May 01, 2008

www.bibleinthenews.com Audio & Print versions
It is interesting, to say the least, that as the Canadian news magazine "MACLEAN'S" offers us a front cover story entitled "Why Israel can't survive," Israelis themselves--and Jews elsewhere--have been observing Holocaust Remembrance Day, and those terrible events in which six million Jews were murdered by Europeans.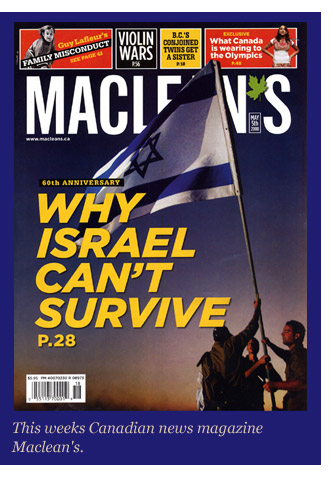 This is Paul Billington with this week's Bible in the News, and this week brings us a rare and strange combination of history as well as a focus upon the future of Israel, as it prepares to celebrate its 60th anniversary.

It was almost symbolic that the captain of the famous ship EXODUS, Yossi Harrel, died in Tel Aviv last week. His ship, packed with Holocaust survivors, was prevented from bringing its human cargo to what was then Palestine. It was that event which, for one small moment, evoked the sympathy of many, and it resulted in the U.N. vote which made way for a Jewish State.

Now the survival of that ship of state is being questioned. The Arabs of course want it destroyed. Many so-called Christians want it dismantled. Just like the leaky old ship known as the Exodus, packed with survivors, the question is--Can Israel stay afloat?

Some nations--such as Iran--would not mind too much if the Holocaust was repeated. The call to "wipe Israel off the map" is not uncommon today. This should not surprise us, because the world did precious little to help the Jews who sought refuge from the Nazis 70 years ago--and in fact, as Simon Wiesenthal has shown, did far more to aid Nazi war criminals as they fled from Europe following the Second World War. When it comes to justice, this world cannot show a good record.

It is difficult to fully appreciate, let alone understand, the illogical and unreasonable hatred and accompanying persecution that the world has had for the Jews, ever since the Romans destroyed their country some 2000 years ago. No doubt it was with some fore-knowledge that Jesus of Nazareth uttered the words that are recorded in Luke 19:41-44. The passage reads:

"And when he was come near, he beheld the city, and wept over it, Saying, If thou hadst known, even thou, at least in this thy day, the things which belong unto thy peace! but now they are hid from thine eyes. For the days shall come upon thee, that thine enemies shall cast a trench about thee, and compass thee round, and keep thee in on every side, And shall lay thee even with the ground, and thy children within thee; and they shall not leave in thee one stone upon another; because thou knewest not the time of thy visitation."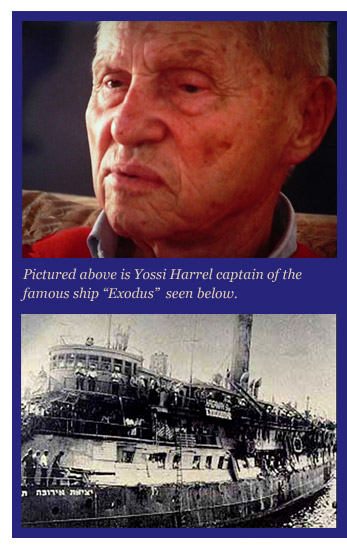 While those words may all seem to be doom and gloom (and we cannot minimize that), there is also something else. Look at verse 42 again.

"Saying, If thou hadst known, even thou, at least in this thy day, the things which belong unto thy peace! but now they are hid from thine eyes."

There are things that belong to "thy peace;" things that are hidden from her eyes--things that were not known, but which ought to have been known.

While everyone mourns the things of the past and ponders Israel's prognosis today, it is worth thinking about these words of Jesus. There are things that belong to the peace of Jerusalem--and it is those things which are so often lost sight of--or "hid from thine eyes."


We can read about the peace of Jerusalem in Psalm 122.

"Pray for the peace of Jerusalem: they shall prosper that love thee. Peace be within thy walls, and prosperity within thy palaces. For my brethren and companions' sakes, I will now say, Peace be within thee" (verses 6-8).

We note the words: "PRAY for the peace of Jerusalem." And is it not appropriate that while the world reflects upon the horrors of the past, and even questions the very survival of Israel today, that now, at this time, we ought to pray for the peace of Jerusalem.

The prophet Isaiah wrote:

" I have set watchmen upon thy walls, O Jerusalem, which shall never hold their peace day nor night: ye that make mention of the LORD, keep not silence, And give him no rest, till he establish, and till he make Jerusalem a praise in the earth. The LORD hath sworn by his right hand, and by the arm of his strength, Surely I will no more give thy corn to be meat for thine enemies; and the sons of the stranger shall not drink thy wine, for the which thou hast laboured: But they that have gathered it shall eat it, and praise the LORD; and they that have brought it together shall drink it in the courts of my holiness. Go through, go through the gates; prepare ye the way of the people; cast up, cast up the highway; gather out the stones; lift up a standard for the people. Behold, the LORD hath proclaimed unto the end of the world, Say ye to the daughter of Zion, Behold, thy salvation cometh; behold, his reward is with him, and his work before him. And they shall call them, The holy people, The redeemed of the LORD: and thou shalt be called, Sought out, A city not forsaken" (Isa. 62:6-12).

Here is something for us to keep in view. Psalm 122, in telling us to pray for the peace of Jerusalem says, "they shall prosper that love thee."

There are those who do love Jerusalem and the things that belong to her peace--and there are those who do not--they couldn't care less! But there is One that does love this place. In Psalm 87:2,3 we read that:

"The LORD loveth the gates of Zion more than all the dwellings of Jacob. Glorious things are spoken of thee, O city of God."

In fact, of this whole Land we read in Deuteronomy 11:12, that it is: "A land which the LORD thy God careth for: the eyes of the LORD thy God are always upon it, from the beginning of the year even unto the end of the year."

Now those who reflect the mind of the LORD; those who love His things, that care about those things that He cares for, will share the Divine attachment to this Land and its city.

So as many around us speculate about Israel's survival in the modern world, those who love the things of Zion will be found praying for the peace of Jerusalem--and those who love her, will prosper.

So as we look at these things, let us be found as watchmen who give him no rest, until these things are established.

Join us again next week, God willing. www.biblemagazine.com bibleinthenews.com



Printed: Thursday, May 01, 2008
Visit www.bibleinthenews.com for a weekly analysis of world politics in the light of Bible prophecy!