"... And Libya With Them"

Alignment of Nations fits Requirements of Prophecy

Thursday, April 24, 2008

www.bibleinthenews.com Audio & Print versions
This is Paul Billington bringing you another edition of the Bible in the News--and once again the Bible is reflected in the news of the past week. This time our focus is upon Libya, though this is connected to other powers that are referred to in prophecy, such as Russia, Iran and the Anglo-Americans.
According to an Associated Press report on Wednesday April 23rd:

"Libya's deputy U.N. Ambassador Ibrahim Dabbashi ended a long speech about the plight of the Palestinians by comparing the situation in Gaza to the German concentration camps in World War II. Some 6 million Jews and up to a half million Gypsies were killed during the Nazi Holocaust."

The report continued to say that the United States, Britain and other Western Powers walked out of the U.N. meeting in protest. Reuters, which also ran the news story said that (I quote):

"British official Karen Pierce said: "A number of Council members were dismayed by the approach taken by Libya and do not believe that such language helps advance the peace process."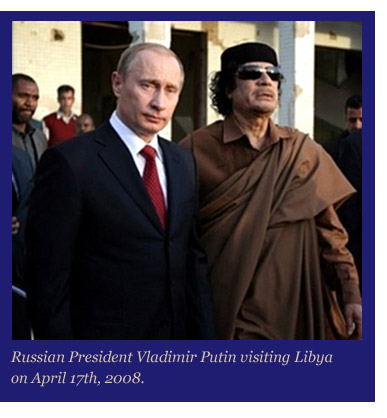 Also mentioned by A.P. were Syria and Iran:

"Syria's U.N. Ambassador Bashar Ja'afari, who is not a Security Council member, told reporters afterwards that he agreed with Libya's characterization of the situation in Gaza.

"'We have many times compared this situation--I mean the one prevailing in the occupied Palestinian territories--to the situation in Europe during World War II,' he said.

"Iran's Foreign Minister Manouchehr Mottaki, in a letter to U.N. Secretary-General Ban Ki-moon on the situation in Gaza, accused the Israeli military of perpetrating 'atrocious crimes against humanity.'

"'There is no doubt that the continuation of this genocide and actual holocaust will bring about dangerous ramifications for the peace, stability, tranquility and security,' Mottaki warned in the letter obtained Wednesday by the Associated Press.'"

This line-up of nations fits exactly to the requirements of prophecy--"Persia (Iran)... and Libya" says Ezekiel, will be with those who come against Israel, in the latter days (chapter 38:5). Protesting the attack upon Israel will be "the merchants of Tarshish with all the young lions thereof" (verse 13); these are a group that have been identified with the Anglo-American nations.

And in the background to all this there is Russia! As recently as April 17th Russia's President Putin visited Libya and amongst other things cancelled Libya's Soviet-era debt of 4.5 billion dollars. New contracts were arranged between Libya and Russian firms. The pattern again fits the prophecy of Ezekiel forming that picture which Bible believers have expected for a century and a half.

For example, in 1884 the book entitled "Christendom Astray" was published by Robert Roberts. In referring to Ezekiel's prophecy he wrote:

"...the supremacy of Russia is foretold... She is to vanquish many countries, and hold a protectorate over them, as indicated by the words, 'Be thou a guard unto them.' Those countries include all the nations of the Continent. 'Gomer and all his bands, the house of Togarmah of the north quarters,' will be found, on reference to ancient geography, to embrace nearly every country in Europe; and, in addition to these, there are 'Persia, Ethiopia, and Lybia with them,' showing that at the time, Russia will have attained to something like universal dominion."

The same picture was given by John Thomas in 1854. Writing in his "Exposition of Daniel" he wrote:

"By turning to a map of Europe and Asia, the reader may trace out the territory of the Kingdom of Babylon as it is destined to exist in its last form under the King of the North in his Gogian manifestation. The names of countries furnished by Ezekiel will lead him to a just conception of its general extent. Besides 'All the Russias', it will take in Norway, Sweden, Denmark, Holland, Belgium, France, Spain, Portugal, Italy, Switzerland, Germany, Prussia, Austria, Turkey, Persia, Tartary, Greece, the Roman Africa, and Egypt. This will be a dominion of great magnitude, extending from the North Sea to the Wall of China and Afghanistan, and from the Ice-Sea to the Deserts of Africa and Arabia."

Today we see Russia gaining tremendous power and influence through its control of energy--and certainly Europe has now become dependent upon Russia. Her power is seen to be spreading over Iran, Syria, and Libya as she penetrates into countries that are all involved in Ezekiel's prophecy. These countries are all becoming more and more hostile towards Israel, and the time cannot be far off when an attempt will be made to eliminate the Jewish State. We know that when this happens, the Lord will intervene--and the question for all of us is clear: Who is on the Lord's side?

As we see the prophetic picture forming and the alignment of nations taking shape--let us make sure that we get ourselves into shape; that we develop characters that will be acceptable before the Lord when he comes.

Join us again next week God willing, as we keep our eye on the Bible in the News.

www.bibleinthenews.com www.biblemagazine.com



Printed: Thursday, April 24, 2008
Visit www.bibleinthenews.com for a weekly analysis of world politics in the light of Bible prophecy!